Soak-Off Color Gel Set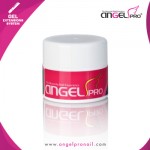 Angel Pro Soak-Off Color Gel Set consists of 14 colors (5g) carefully chosen to keep the widest range of customers satisfied. Each pot of colors from our extensive range of 126 gel palettes is rich in color-pigment & glitter concentration; thus using just a bit of color gel gets you the full color intensity.
This item is sold in a set of 14pcs.
Showing 1 to 9 of 9 (1 Pages)
©2014 Angel Pro Online Shop. All Rights Reserved.