Acrylic Nail System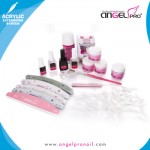 Exclusive formulated system
Applying the latest technology into our Angel Pro acrylic system, this complete range of powders & liquids are formulated to set & dry at the appropriate timing and performing perfectly together. Ensuring every nailist the ability to create natural looking & resilient nail extensions that suit the many customers' needs.
Quality ingredients
Each cosmetic-quality products contain only the purest ingredients that are developed through an innovative manufacturing process; Achieving the system's unsurpassed durability & workability.
Full complete range
Meeting the demands of the salon and the nail artist in each person, Angel Pro offers an exceptional full range of specially designed prep-products, brushes, sculpting tools, nail-files and top coats to put the ability to provide quality service into each nailist hands.
©2014 Angel Pro Online Shop. All Rights Reserved.