Design & Color Powders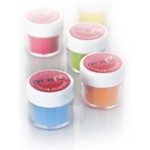 Angel Pro Design & Color Powders are the other part of the powerful equation for perfect nail enhancements.

Available in five new & innovative, got to-have-it colors series(12 pieces each series); you will be ensured a mouth-watering experience playing with such a wide palette of tones!! All color & glitter powders work best with Angel Pro Liquid Monomer for consistent color every single time.

Our colors are precisely formulated to the highest industry standards Nail to nail, jar to jar, to ensure you the highest level of color performance.
Showing 1 to 5 of 5 (1 Pages)
©2014 Angel Pro Online Shop. All Rights Reserved.