PROFESSIONAL FILE SET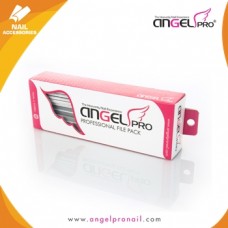 Dimensions:
L: 18 (cm) W: 3.5 (cm) H: 6.3 (cm)
Product Code:
APPFS
Availability:
In Stock
Price: US$28.60

This item is sold in a box of 10pcs, includes:
2 x APFB CLOUD BUFFER
2 x APF100 STAR FILE 100/100
2 x APF150 PETAL file 150/150
2 x APF180 LOVE FILE 180/180
2 x APHSB BLING SHINER
APFB

CLOUD BUFFER 180/280

Angel Pro Cloud Buffer is a 180/280 Grit two-sided file. It has a thick foam center for quick comfortable whisks on the entire nail without hurting any skin. The file is best used before Angel Pro Bling Shiner to buff away any file demarcations when achieving an ultra-smooth surface.

APF100

STAR FILE 100/100

Angel Pro Star File is 100/100 Grit on both sides. It is lightweight and reinforced in the center to prevent file weakening. The file is perfect for sidewall filing and overall shaping on enhancement nail shapes.

APF150

PETAL FILE 150/150

Angel Pro Petal File is 150/150 Grit on both sides. It is light & easy to handle; it does not break as it is reinforced in the center. The file is ideal for blending tips, cuticle contouring filing & over the top filing.

APF180

LOVE FILE 180/180

Angel Pro Love File is 180/180 Grit on both sides. It is reinforced in the center to prevent file weakening while being used. It is ideal for creating a smooth-finishing on all nail enhancements.

APHSB

BLING SHINER

Angel Pro Bling Shiner is used after Angel Pro Cloud Buffer to create the glossiest finish. An easy two-step action that can is used on both natural& artificial nails. The ultimate shiner can bling up a mirror-finish on the nails in seconds!
Write a review
Please
Login
To Review This Product
©2014 Angel Pro Online Shop. All Rights Reserved.