DEHYDRATOR 15ml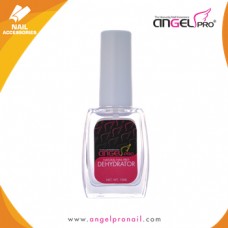 Dimensions:
L: 3.1 (cm) W: 2.3 (cm) H: 8 (cm)
Product Code:
APDEH
Availability:
In Stock
Price: US$8.90

Angel Pro Dehydrator balances pH and eliminates moisture from the nail in preparation for other services – in only 3 – 5 seconds! Readies the natural nail plate for primer, glue or enamel, creating a perfect seal. Nail Lacquers - Creates a longer lasting bond for applying nail lacquer to natural nails. Gel/Acrylic Nails - Strengthens the bond for applying acrylic nails.

Capacity : 15 ml
Write a review
Please
Login
To Review This Product
©2014 Angel Pro Online Shop. All Rights Reserved.